Food & Lifestyle
Updated: December 31, 2019
'Tis The Season To Eat Cheese – Bay Market Cafe
At Bay Market Cafe – we love cheese!
So in the lead up to Christmas, we're celebrating our 12 days of cheese, 'Tis the season to eat cheese!
Each day we'll showcase a cheese, explaining how it tastes and what to pair it with. You can then sample it that day, at the fromagerie within Bay Market Cafe.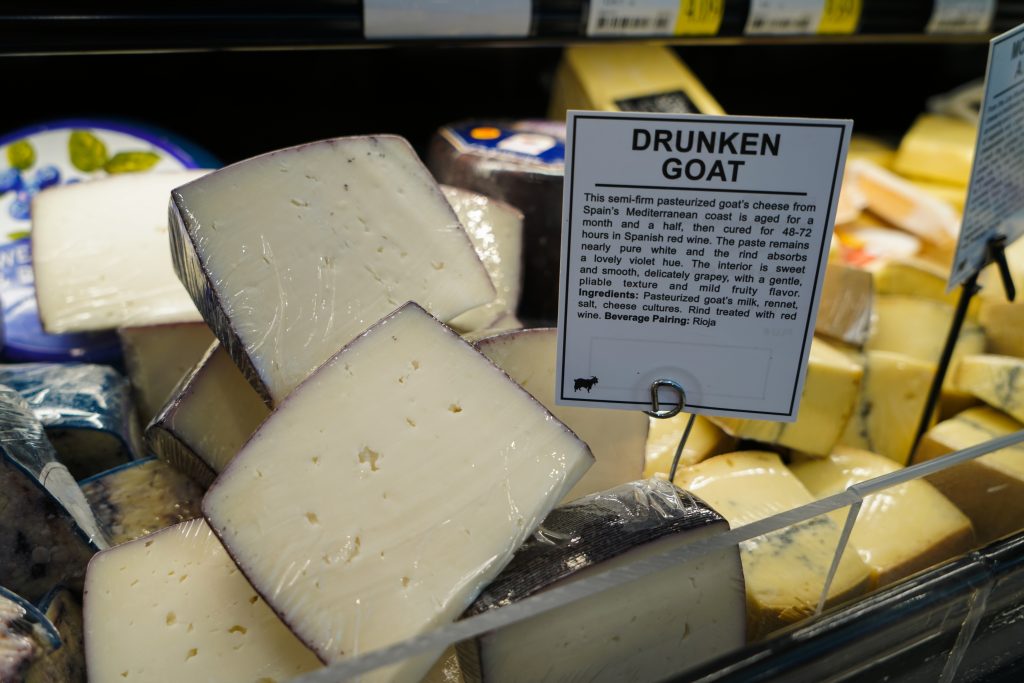 Day 1 – Wednesday 11th December
Drunken Goat
Country of Origin: Spain
Tasting Notes
This semi-firm pasteurized goat's cheese from Spain's Mediterranean coast is aged for a month and a half, then cured for 48-72 hours in Spanish red wine. The paste remains nearly pure white and the rind absorbs a lovely violet hue. The interior is sweet and smooth, delicately grapey, with a gentle pliable texture and mild fruity flavor.
Pairing
Great with fruity red wines and can be enjoyed with dips (especially hot dips) and can even be added to pizzas. A great addition to a cheese plate, as it's a great conversation starter.
Ingredients: Pasteurized goat's milk, rennet, salt, cheese cultures. Rind treated with red wine.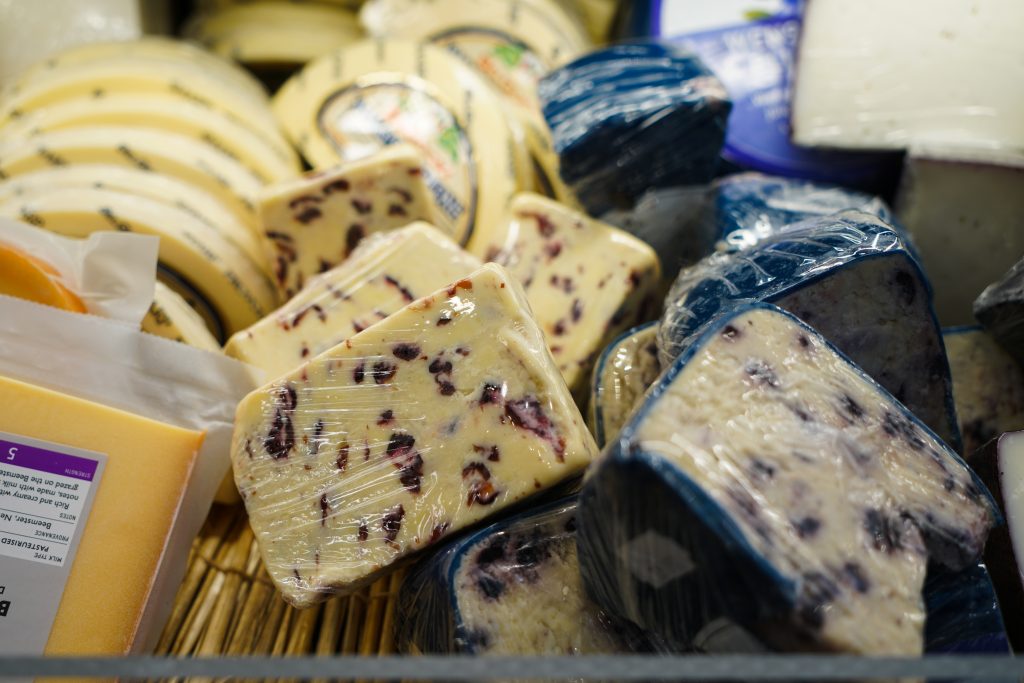 Day 2 – Thursday 12th December
Wensleydale with Cranberries
Country of Origin: UK
Tasting Notes
Wensleydale with Cranberries is a hand-made Yorkshire cheese. It's made from milk drawn from cows grazing the sweet limestone pastures on surrounding farms in Upper Wensleydale. This gives the cheese the unique flavor for which it is renowned. The cheese has a sweet flavour of the fruity succulence of juicy cranberries with honeyed undertones.
Pairing
A great dessert cheese that can be served with sweetened or ginger crackers and can also be crumbled over a salad. Great with champagne or sparkling wine, or even a well bodied port.
Ingredients: Yorkshire Wensleydale Cheese (Milk), Sweetened Dried Cranberries, (Sugar, Cranberries, Sunflower Oil), Preservative; Potassium Sorbate.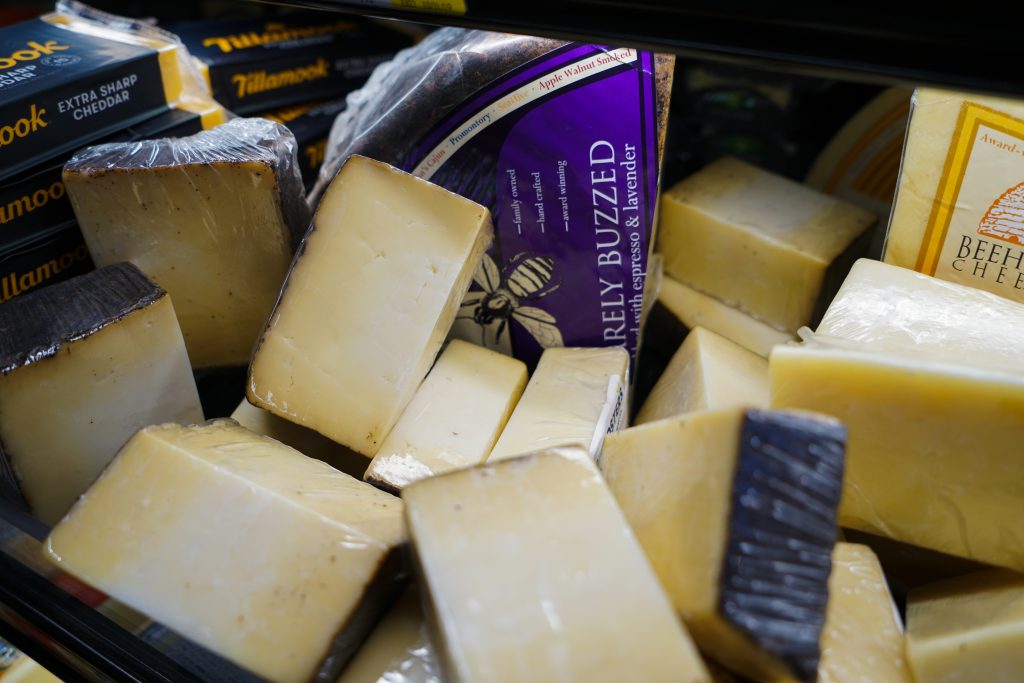 Day 3 – Friday 13th December
Beehive Cheese Barely Buzzed
Country of Origin: USA
Tasting Notes
The espresso and lavender rub imparts notes of butterscotch and caramel, which are prevalent near the rind, but find their way to the center of the cheese. This is a full-bodied cheese with a nutty flavor and smooth texture.
Hours after it's made, the special grind is rubbed on the rind. The 20-pound wheel ages for 6-8 months. As it ages, our cheesemakers test each batch to determine the right time to introduce the wheel into the world.
Pairing
Toasted nuts, chocolate, charcuterie, full-bodied red wines, ciders.
Ingredients: Vegetarian rennet, cow's milk, all ingredients rubbed on the rind are organic, this is a gluten-friendly product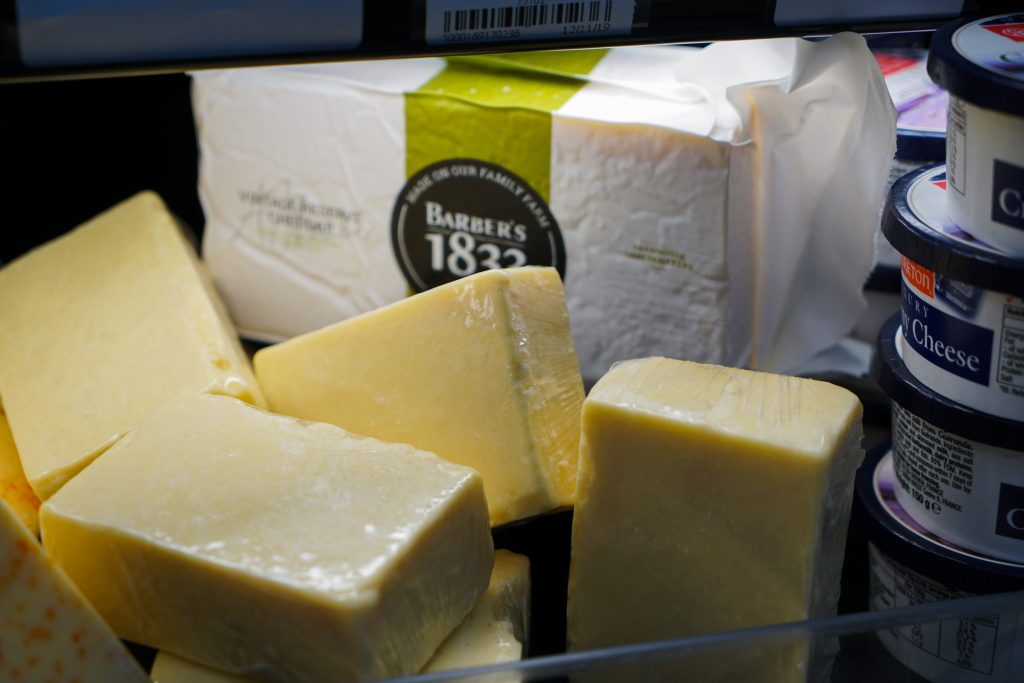 Day 4 – Saturday 14th December
Barber's 1833 Vintage Cheddar
Country of Origin: UK
Tasting Notes
With a creamy texture and smooth finish, 1833 contains naturally- occurring crystals that give it a distinctive crunch. Refined sweet notes balance out its tangy sharpness.
Pairing
Cheeseboard with apples & pickled walnuts. Great with a cider.
Ingredients: Milk, Vegetarian Rennet, Salt, Starter Culture.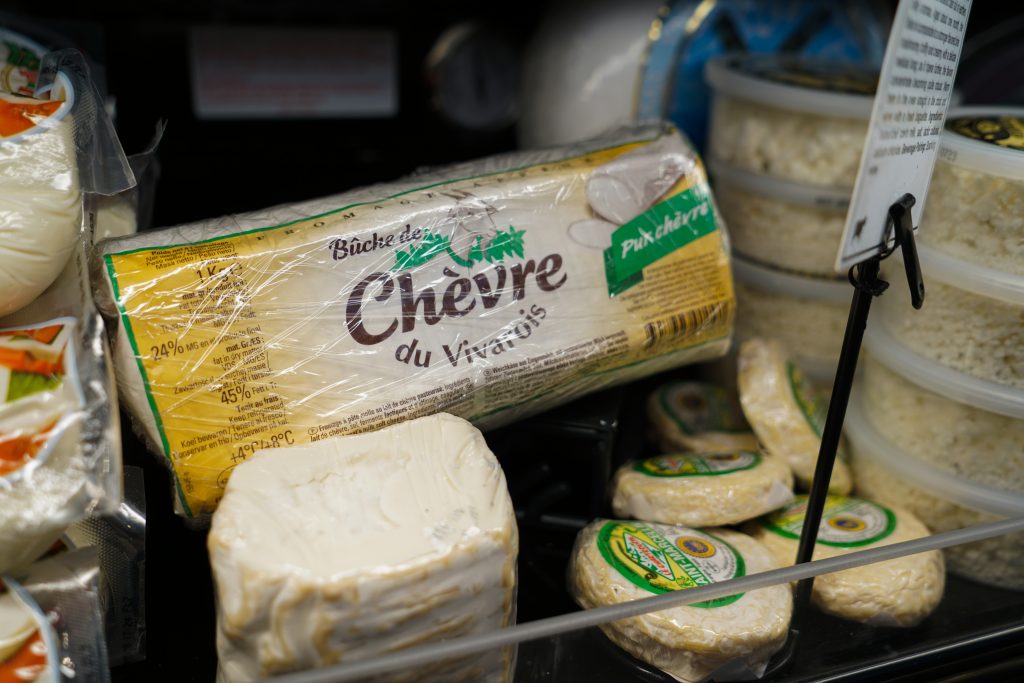 Day 5 – Monday 16th December
Buche de Chevre
Country of Origin: France
Tasting Notes
Buche de Chevre is an exquisite soft-ripened cheese made from goat's milk and produced in the Poitou-Charentes region in the Loire Valley of central France. A log-shaped chevre cheese, it is ripened for a minimum 7 days rendering the exterior a crusty and hard edible rind with a classic, bloomy mold. The white pate of Buche de Chevre reveals a complex yet typical, bold taste of French goat cheeses underlined by sweet notes of caramel. Soft and creamy with a flaky centre, the cheese instantly melts in the mouth.
Pairing
Fruit, salads, quiches, canapes & red wine
Ingredients: Pasterurized Goat Milk, Salt, Cheese Culture, Vegetal Rennet, Penicillium candidum.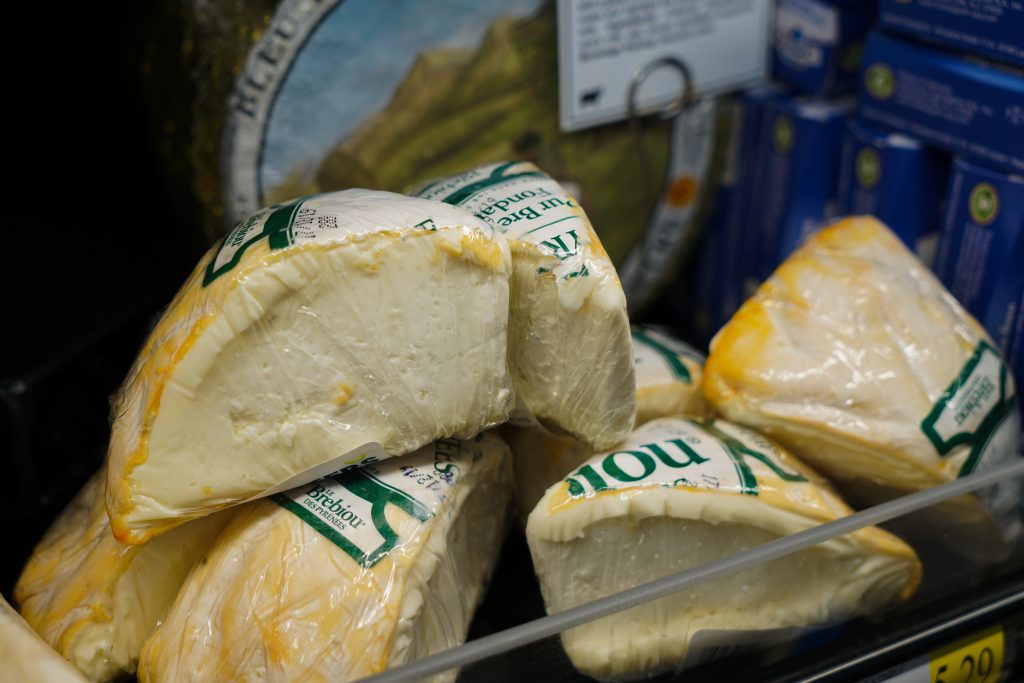 Day 6 – Tuesday 17th December
Le Brebiou Des Pyrenees
Country of Origin: France
Tasting Notes
The soft cheese specialty is made from 100% aromatic sheep's milk in the French region of Pyrénées-Atlantique. The delicate bark of white noble cultures reveals a creamy-melting dough with sour-fresh heart. It has a mild-spicy with harmonious sheep's milk flavor.
Pairing
Pair it with a light red, a fruity and dry white, or a rosé.
Ingredients: French soft cheese, cream, pasteurized sheep's milk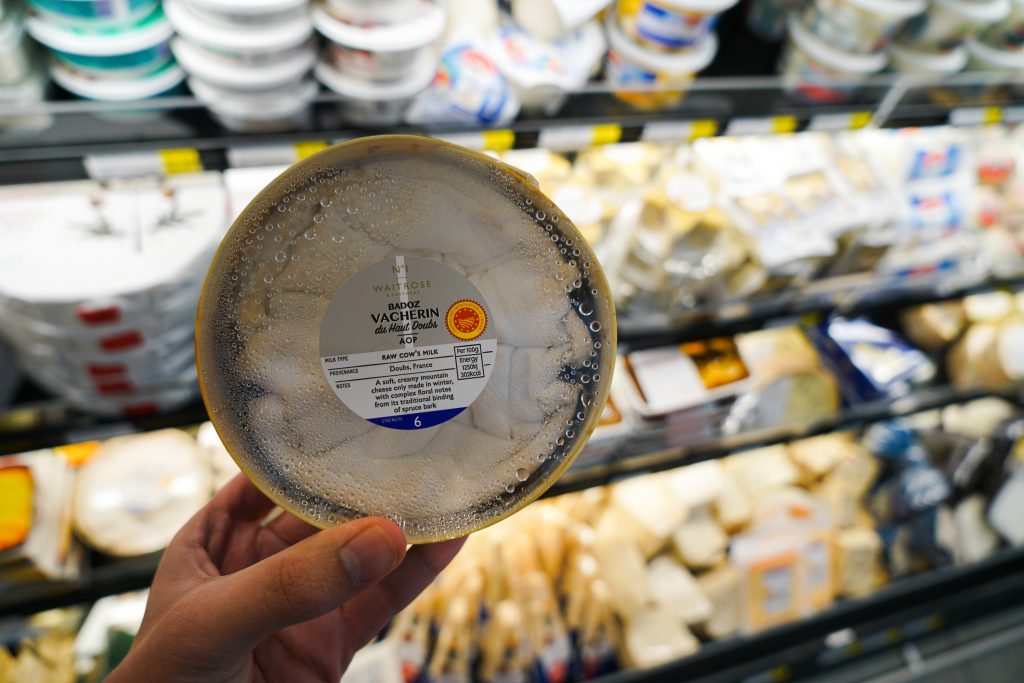 Day 7 – Wednesday 18th December
Waitrose Badoz Vacherin Du Haut-Doubs A.O.P
Country of Origin: France
Tasting Notes
Soft ripened cheese made from raw cow's milk. A soft, creamy mountain cheese only made in winter, with complex floral notes from its traditional binding of the spruce bark. It is bound with a hoop of aromatic spruce bark which imparts a unique aroma and complex floral flavour to the golden runny centre.
Pairing
A medium-bodied red wine.
Ingredients: Vacherin cheese (milk)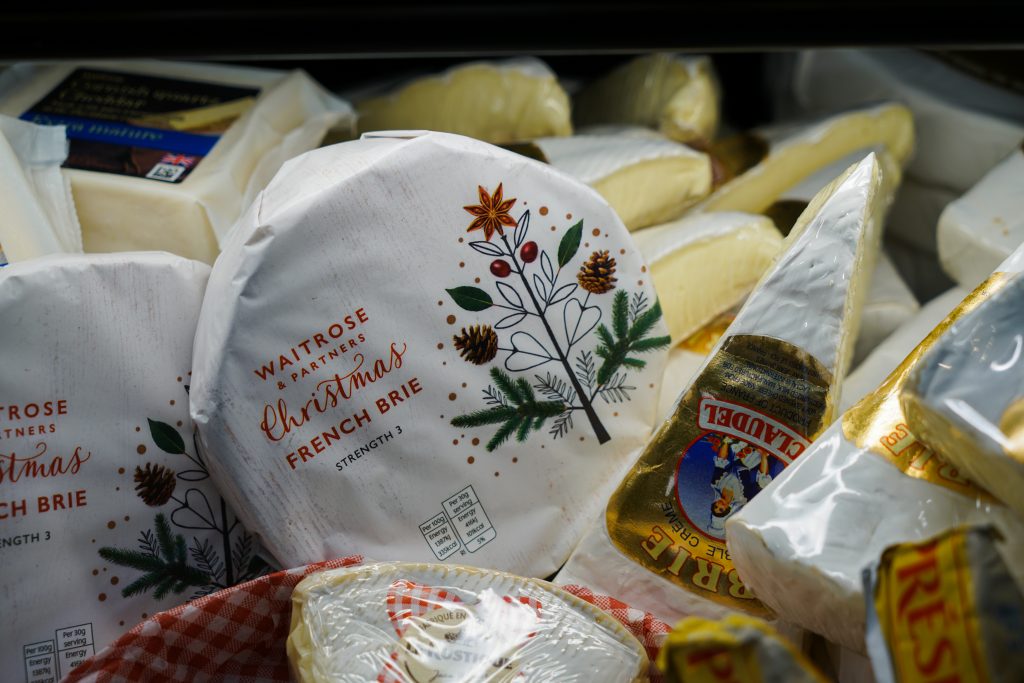 Day 8 – Thursday 19th December
Waitrose Christmas French Brie
Country of Origin: France
Tasting Notes
A fabulously oozy, mellow but characterful Brie. It has enough flavour and a slight nuttiness that cheese aficionados will be satisfied, but its creamy texture and seductive softness are gentle enough for those who simply want cheese on crackers.
Pairing
Soft and fruity red wines or spiced white wines. Red wines that work well are Sangiovese di Romagna, Dolcetto di Monferrato, or a Pinot Noir. White wines, Reisling, Marsanne or Viognier.
Ingredients: Brie cheese (milk) (cows milk, SALT, firming agent calcium chloride, microbial rennet, mould culture, starter culture, acid regulator glucono-delta-lactone, acidity regulator carbon dioxide)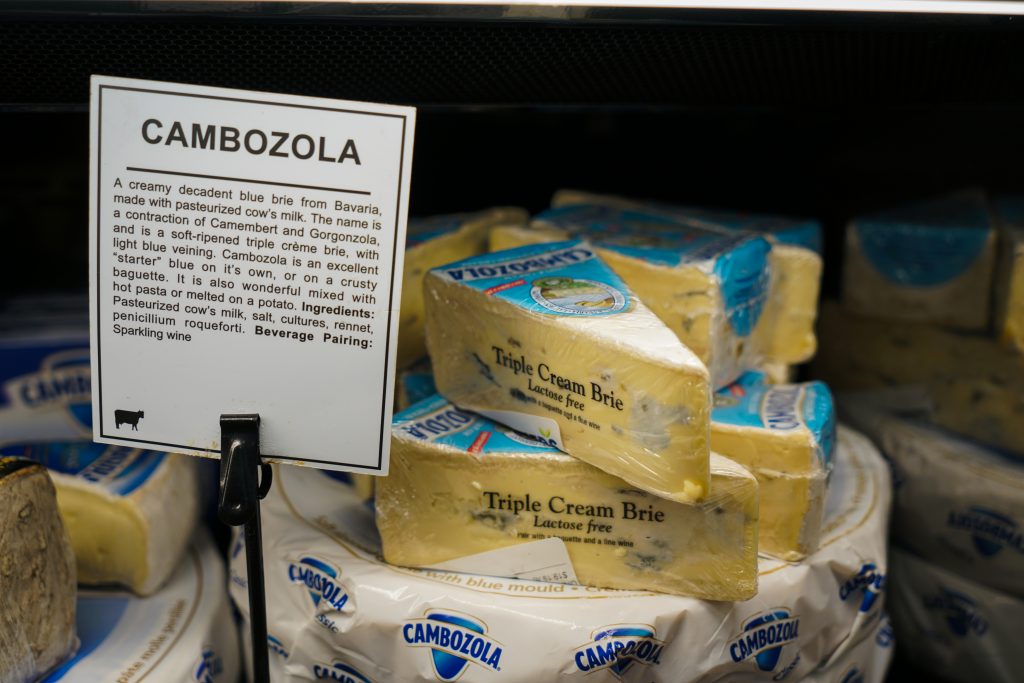 Day 9 – Friday 20th December
Cambozola Triple Cream
Country of Origin: Germany
Tasting Notes
This mild and subtle blue-veined creation is perfect for those looking for a blue cheese that is neither incredibly pungent (like a Stilton), nor extremely crumbly (like a Roquefort).
Pairing
A warm baguette and a glass of cabernet sauvignon or sparkling wine.
Ingredients: Pasteurized milk, cream, salt, microbial rennet, bacterial cultures, penicillium camemberti, penicillium roqueforti.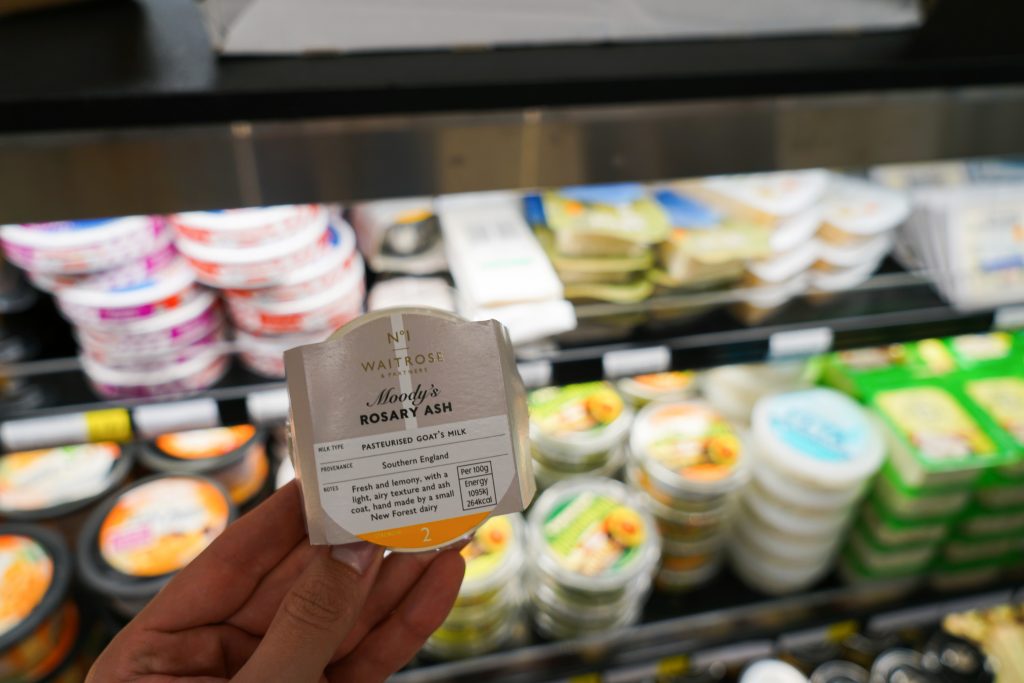 Day 10 – Saturday 21st December
Waitrose Rosary Ash Button
Country of Origin: UK
Tasting Notes
Soft cheese made from pasteurised goat's milk coated in ash. Fresh and lemony, with a light, airy texture and ash coat, hand made by a small New Forest dairy.
Pairing
Eat with a crusty bread and jelly condiment. With a glass of sauvignon blanc or a crisp dry rosé.
Ingredients: Goat's cheese (Goat's milk), vegetable carbon.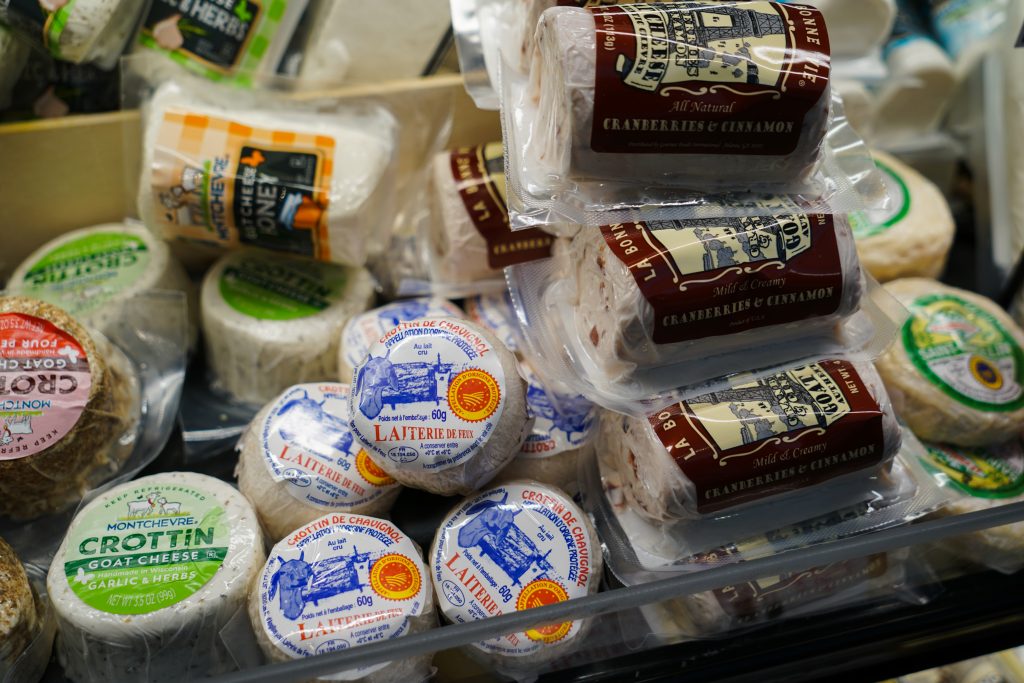 Day 11 – Monday 23rd December
Crottin De Chavignol
Country of Origin: France
Tasting Notes
It is one of those rarest cheeses that can be eaten at various stages of its maturity. It is often eaten clothed in fine herbs when fresh from the cheese vat. At this stage of the maturing process, it has a creamy, nutty taste. After about six weeks, while its smell starts getting stronger, its pâté becomes dry and brittle. Moreover, a harder texture with a pronounced flavour starts to develop. Hereafter, the cheese continues to mature and the robust taste increases, but never gets sour. Its rind develops into a rough and hard layer over a period of time.
Pairing
Drink pairings include off-dry riesling, rosé. or a sauvignon blanc.
Ingredients: Goats Milk, Chevre Culture, Geotrichum Candidum, Cheese Salt, Calcium Chloride.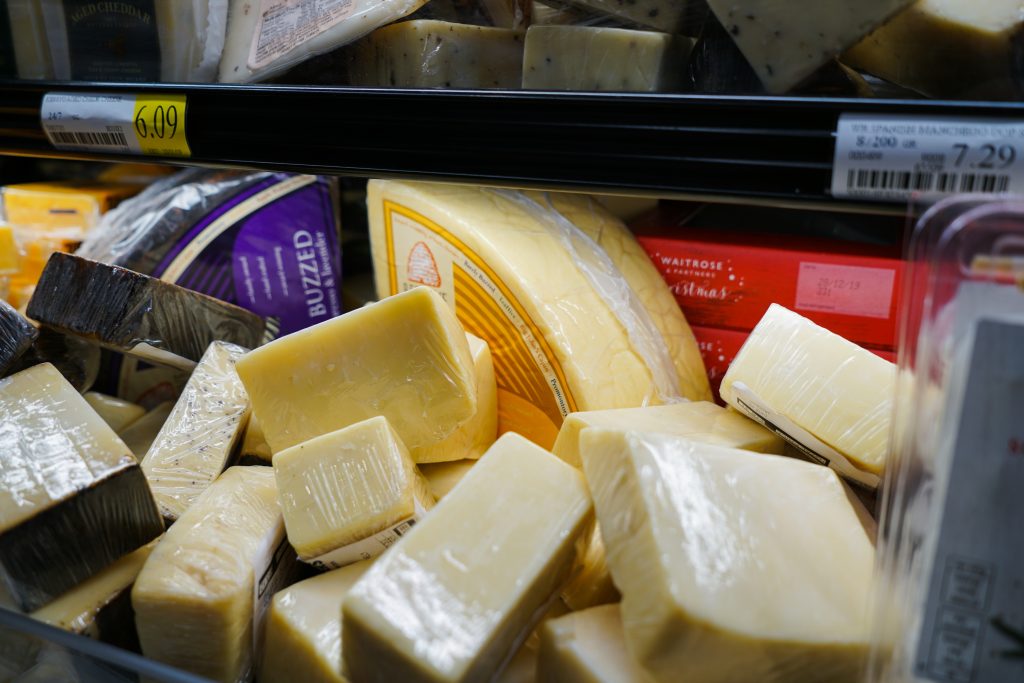 Day 12 – Tuesday 24th December
Beehive Seahive
Country of origin: USA
Tasting Notes
Sweet and creamy. The honey on the rind elevates its inherent sweetness without becoming cloyingly sweet.
Pairing
Eat with stone fruits, berries, toasted nuts and drink with fruity white wines, medium bodied red wines or ciders.
Ingredients: Vegetarian rennet, cow's milk, all ingredients rubbed on the rind are organic, this is a gluten-friendly product
---
Need something to go with your new favorite cheese?
We have wafer crackers, honey for cheese, gourmet spreads, fruit paste, Waitrose pate and much more! All located in and around the fromagerie at Foster's Camana Bay.