What's happening
Updated: July 11, 2022
Pick 5
So what is Pick 5?
Pick 5 is our value-packed meat deal! Choose 5 fresh packs of specially marked meat from our meat department, for just $19.99.

The meat is always fresh, never previously frozen, plus the range is constantly changing.
It's the perfect way to feed the family for less!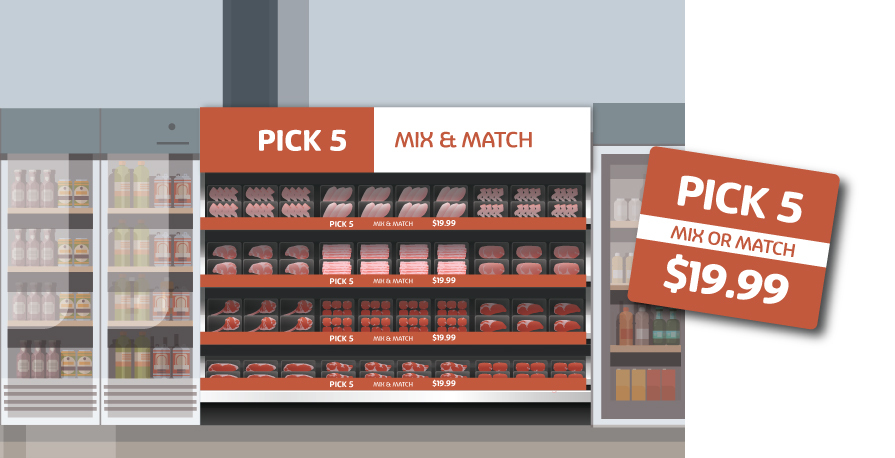 ---
So you've picked 5 meats, great! Well we've teamed up with Tanya's Kitchen and picked 5 recipes to help you get creative in the kitchen!
Braised Chicken with Thyme and Coconut Milk
Prep Time: 15 minutes, Cook Time: 60 minutes, Servings: 4- 6 persons
Ingredients
2-3 lbs. bone in, skin on chicken thighs
Salt & pepper to taste
3 tbsp olive oil
1 medium onion – quartered and thinly sliced
5 cloves garlic rough chopped
6-8 sprigs thyme chopped
½ tsp red pepper flakes
1 pint grape tomatoes (split in half)
1 13-oz coconut milk
1 cup chicken broth
Method
Pre-heat oven to 375 degrees.
Pat dry the chicken thighs and season with salt and pepper. Rest at room temperature until ready to shallow fry. In a large frying pan, heat oil over mid-high heat. Place the thighs skin side down in the hot oil and cook until deep brown colour- about 6 minutes. Flip and cook the other side until and cook until brown about 4-5 minutes. Remove the chicken from the pan and set aside.
Turn the pan to med-low heat and add the onions and cook until soft and tender. Add the garlic, tomatoes and thyme and stir and cook for about 1 minute. Season with salt and pepper.
Bring back the heat to mid-high and add the chicken stock and strap the brown bits on the pan. Next add the coconut milk and allow the ingredients to simmer 1- 2 minutes. Add back the chicken and the juices and coat with the broth. Place the pan in the oven uncovered for about 40 minutes or until the chicken is cooked through. Served with rice or noodles.
---
Flat Iron Steak Burrito Bowl
Prep Time: 25 minutes, Cook Time: 12 minutes, Assemble Time: 8 minutes, Servings: 6 persons
Ingredients
1 lbs. flat iron steak
½ tsp. chili powder
Salt and pepper
Olive oil
6 cups cooked white rice (any cooked grains or spinach as base)
½ cup cotija cheese crumbled
1 cup monterey jack cheese shredded
½ cup red onions small chopped
5 plum tomatoes quartered, seeded and small diced
¼ cup cilantro (optional – replace with parsley)
2 limes wedged
6 ears – corn grilled, remove kernels from the cob
1 cup black beans drained
2 avocados sliced
1-2 jalapenos grilled and sliced
1 cup sour cream (optional)
Method
Season the flat Iron Steak with salt, pepper and chili powder and rub with the olive oil.
On a very hot grill pan or skillet place the meat on the hot surface and sear for about 6 minutes. Turn and sear on the other side for another 6 minutes or until medium rare. Allow the meat to rest for 5 minutes before cutting into strips.
Assemble: to a bowl add rice (base ingredients), place the sliced flat iron steak on top of the bow to the side. Clockwise start adding the other ingredients: grilled corn, chopped tomatoes, cotija cheese, black beans, chopped onions, Monterey Jack cheese, avocado slices covering the surface of the bowl. Garnish the center of the bowl with Sour cream, Jalapenos slices, cilantro and a lime wedge and serve.
---
Kale and Chicken Meatballs
Prep Time: 15 mins, Cook time: 20 mins, Servings: 4-6 people
Ingredients
1 ½ lbs ground Chicken
1 ½ cups kale finely chopped
1 egg
5 tbsp. fresh mint finely chopped
5 tbsp. fresh parsley finely chopped
3 cloves garlic finely chopped
2 tbsp. soy sauce
1 tbsp. worcestershire sauce
Salt & pepper to taste
4-5 tbsp. coconut oil (any oil of your desire)
Method
In a large mixing bowl add all the ingredients and combine well.
Scoop the ground mixture into balls and roll them gently into balls or patty shapes are formed, set aside to rest. Until ready to fry.
In a large skillet pan heat on med heat and add your oil. Pan fry the meatballs until golden brown all around and remove from the pan. Repeat cooking until all the meatballs are cooked.
Serve with coconut milk yogurt and fresh mint
---
Orange Mustard Pork Chops
Prep Time: 10 minutes, Cook Time: 20 Minutes, Servings: 4-6 people
Ingredients
4-6 bone in pork chops
Salt and pepper
1 large orange
¼ cup dijon mustard
2 sprigs rosemary chopped
¾ cup chicken stock
3 tbsp. olive oil (coconut oil optional)
3 tbsp. butter (glee optional)
Method
Pat Dry the pork chops and season with salt and pepper.
Smear the mustard on both sides of the pork chops and sprinkle with Rosemary, set aside.
In a large skillet heat the oil and butter med-high heat. Place a few chops in the hot pan and cook for about 4-6 minutes on each side until the coating is caramelized on the chops. Remove and repeat until all remaining chops are caramelized and cooked on both sides. Turn the heat to high and pour the chicken stock and squeeze the orange juice in the pan to deglaze the loosen the brown bits on the bottom of the pan. Add back in the pork chops to the pan and glaze with the juices. Turn off the heat and allow to rest for about 8 minutes.
---
Sirloin Steak Tacos
Prep Time: 30 minutes, Cook Time: 15 minutes, Servings: 4-6 persons
Ingredients
1 ¼ lbs. sirloin steak
Salt and pepper
3 tbsp. red wine vinegar
3 tbsp. olive oil
12 handmade tortillas
4 avocados, Hass ripe pitted and crushed
1 lime, fresh, juiced
6 scallions cleaned and grilled
½ red onion, thinly sliced
½ cup red wine vinegar
1 tbsp. sugar
½ tsp. red pepper chili flakes (optional)
Method
In a bowl crush the avocado. Season with salt and pepper and add the lime juice stir well and set aside refrigerated.
In a second bowl add the thinly sliced onions add the vinegar, sugar, red pepper chili flakes. Stir until sugar is dissolved. Set aside at room temperature.
Grill or Sear the Scallions until wilted. Set aside.
Heat a skillet on high heat. Sear the steak for about 4-6 minutes on each side. Allow the steak time to rest before cutting.
Cut the steak into long stipes.
Heat a pan on medium heat and lightly heat both sides of the tortillas.
Assemble the tortillas with crushed avocado, steak, scallion halves and picked red onions. Serve immediately.
---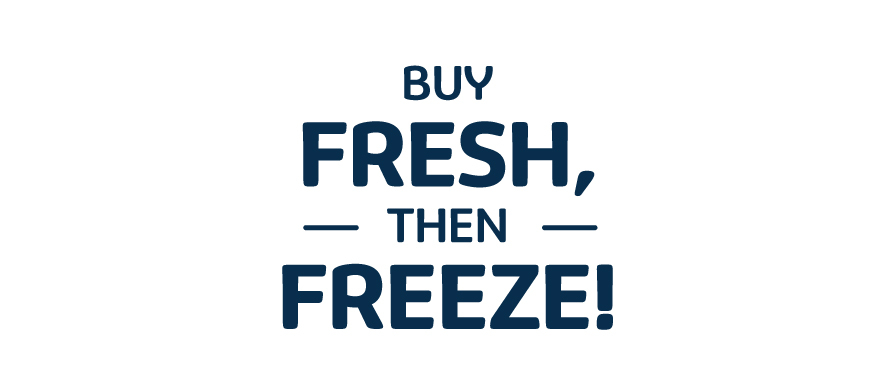 More about Pick 5!
The range generally includes;
Chuck Flat Iron Steak, Ground Meats, Pork Chops, Chicken Thighs, Pork Spare Ribs, Bottom Round Steak, Salted Pig Tails, Chicken Drumsticks, and more!
The Pick 5 section is constantly being restocked throughout the day, so no matter what time you shop with us, you'll always find a range of meats to choose from.
It's perfect when buying meat for the week, and because you're buying it fresh you can always freeze it for later.
Pick 5 is available within the meat department, at all Foster's locations.