Food & Lifestyle
Updated: July 30, 2021
Penne & Mushroom Alfredo
Loved sampling this vegetarian pasta recipe at our Camana Bay location? Well make it for yourself, it's easy, packed with quality ingredients and full of flavor.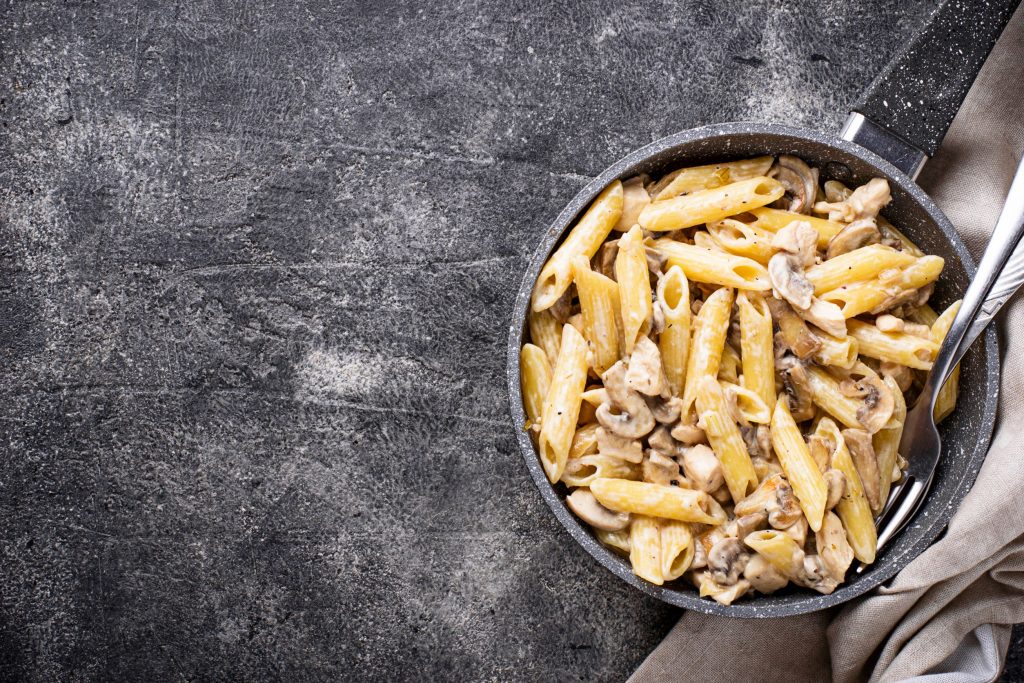 Ingredients
1 x 500g De Cecco Penne
2 x Bridge Bio Oat Cream (200 ml each)
2 x Cups of Vegetable Broth
4 Tbsp Plant Based Butter
½ of a small onion
1 x clove of garlic
1 x 16 oz pack of mushrooms
1 tsp Lemon Juice
2 tbsp Bob's Red Mill Nutritional Yeast
2 Tbsp All Purpose Flour
¼ Tsp Salt
Pinch of Black Pepper
(optional add 1 cup of spinach)
Instructions
Boil De Cecco Pasta using directions on the bag
Chop ¼ of a small onion and 1 clove of garlic and put into a blender with 1 cup Vegetable Broth and blend until smooth. On low in a large frying pan, melt 2 x tbsp of Plant Based Butter with 2 tbsp flour until it makes a paste. Begin to gradually add the blended onion, garlic and vegetable broth into the paste until it combines to make a roux, gradually continue to add the second cup of vegetable broth and the two Bio Oat Creams into the frying pan on a medium heat to simmer, add the 2 tbsp nutritional yeast.
In the meantime, chop 1 x 16 oz pack of mushrooms and ¼ of a small onion and fry in 2 tbsp of the plant-based butter until onions and sliced mushrooms are golden. Combine into sauce and add 1 tsp lemon juice (freshly squeezed or from a bottle).
Combine Pasta and sauce.
(Optional combine one cup of spinach (ends chopped) stir until wilted and combined.
---
This recipe is sponsored by Progressive Distributors.