Product recalls
Updated: November 9, 2019
Mical Seafood Inc. Recall on Tuna Products
NOT AFFECTED
Foster's Supermarket would like to announce that  Mical Seafood Incorporated of Cooper City, Florida has voluntarily initiated an expanded recall of frozen, wild-caught yellowfin Tuna Loins, Tuna Poke, Tuna Steaks, Tuna Ground Meats, and Tuna Saku ( products of Vietnam), due to potentially elevated levels of histamine.
Elevated levels of histamine can produce an allergic reaction called scombroid fish poisoning that may result in symptoms that can generally appear within minutes to several hours after eating the affected fish.
The most common symptoms of histamine or scombroid fish poisoning are tingling or burning sensation in the mouth, facial swelling, rash, hives and itchy skin, nausea, vomiting or diarrhea; these symptoms usually resolve within several hours without medical intervention. However, each individual may experience symptoms differently. If symptoms are severe an individual should seek immediate medical attention for treatment.
The affected products contain all lots with production dates: 04/01/2019 TO 05/31/2019. Production dates can be found on the ends of the Mical Brand master cases. These dates are stamped on to the masters as they are produced.
Fosters IGA does not carry any of the affected Mical Seafood Tuna products and has not been affected by this recall. The affected product is as follows: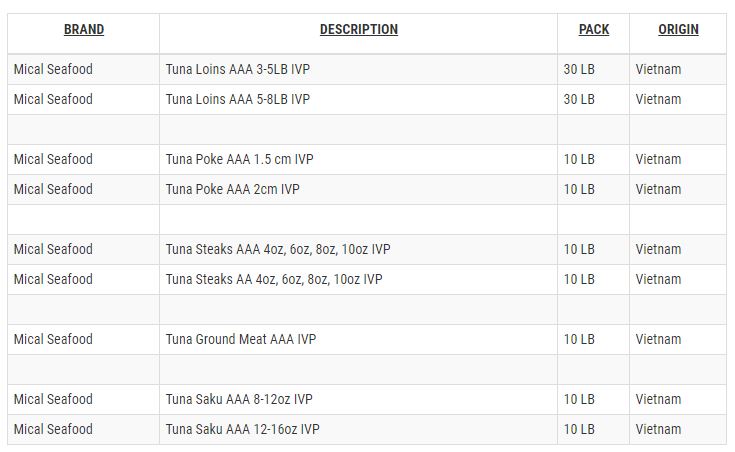 No other Mical Seafood branded product is included within this recall.
Customers should check the UPC's on Tuna products from Mical Seafood Incorporated at homes to be sure none of the affected product has been purchased. We encourage all customers who have purchased this product from any of our Foster's IGA locations to return the affected product for a full refund. Please discontinue use of any affected product
Should you have any questions or concerns, please do not hesitate to reach out by email
([email protected]) or by phone (345-945-3663).

END