Uncategorized
Updated: May 14, 2021
Breakfast of Champions: French Toast Roll-Up

French Toast Roll-up with Organic Valley and Niman Ranch (Brioche filled with Apple & Niman Ranch Bacon), add whipped cream-using Organic Valley Heavy Cream.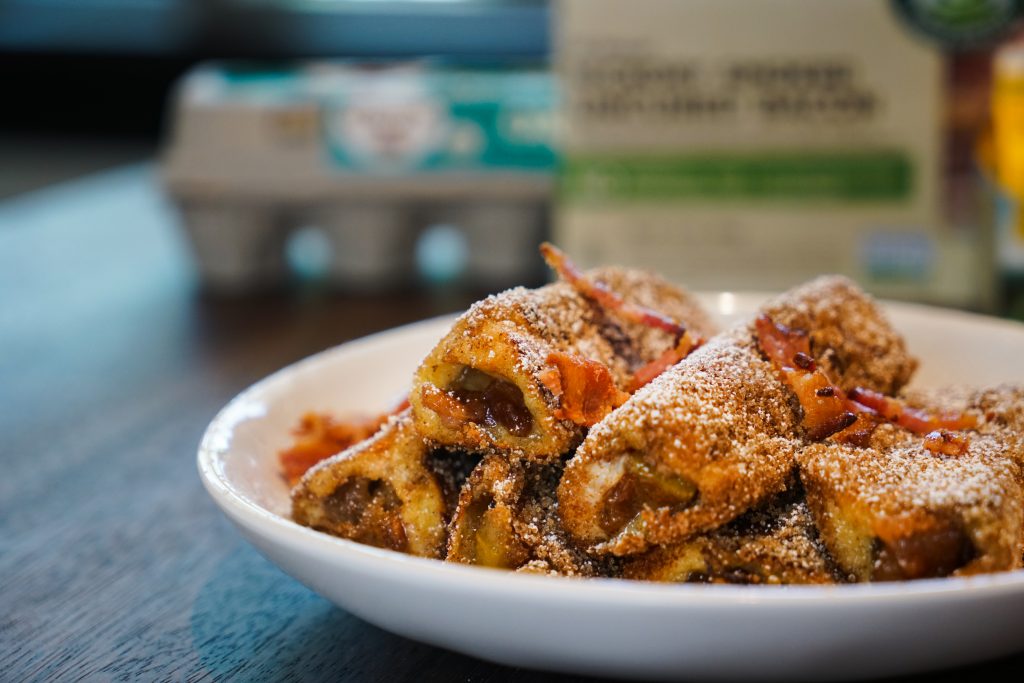 Ingredients
12 slices Niman Ranch Bacon
1 lemon, juiced
4 Granny Smith apples, peeled, small dice
1 tablespoon cornstarch
6 tablespoons sugar
¼ teaspoon allspice
¼ teaspoon cinnamon
¼ teaspoon ginger
FOR THE FRENCH TOAST ROLL-UPS:
2 tablespoon coconut oil & butter to grease the pan
10 slices Bakerly Brioche Bread loaf
1 Organic Valley whole egg + ½ cup of Organic Valley Milk (egg-milk mixture)
6 tablespoons sugar (egg-milk mixture)
1 tablespoon cinnamon (egg-milk mixture)
ASSEMBLY:
1 cup Organic Valley Heavy Whipping Cream (for topping)
2 tablespoons powdered sugar (for topping)
1 teaspoon vanilla extract (for topping)
Method
FOR THE BACON-APPLE FILLING:

Begin by crisping the bacon in a sauce pan. Once rendered, remove the bacon but leave the fat in the pan. Add the apples to the pan, sprinkle lemon juice over apples in saucepan. Mix the cornstarch, sugar and spices together and add to apples. Mix well and cook, stirring constantly until thickened. Remove from heat and cool. Chop the bacon and add half to the filling. Set aside.
FOR THE FRENCH TOAST ROLL-UPS:
Cut the crust away from the bread slices and flatten them with a rolling pin. In a shallow bowl, whisk the eggs and milk. In a separate bowl or plate mix the sugar and cinnamon. Place 2 tsp of apple filling on each bread slice and spread it over 2/3 of the surface. Roll each slice to form a small roll.
In a frying pan, heat the coconut oil and butter. Bathe the rolls in the egg-milk mixture and fry until golden brown on all sides. Add oil to the pan when needed.
While the rolls are still hot, roll them in a mixture of sugar and cinnamon until completely covered in sugar. Serve while still warm with the vanilla whipped cream and the remaining chopped bacon.