Uncategorized
Updated: May 14, 2021
Breakfast of Champions: Avocado Deviled Eggs with Chorizo

Avocado Deviled Eggs with Chorizo with Organic Valley and Niman Ranch (Organic Valley eggs filled with an egg and avocado filling, topped with Niman Ranch chorizo)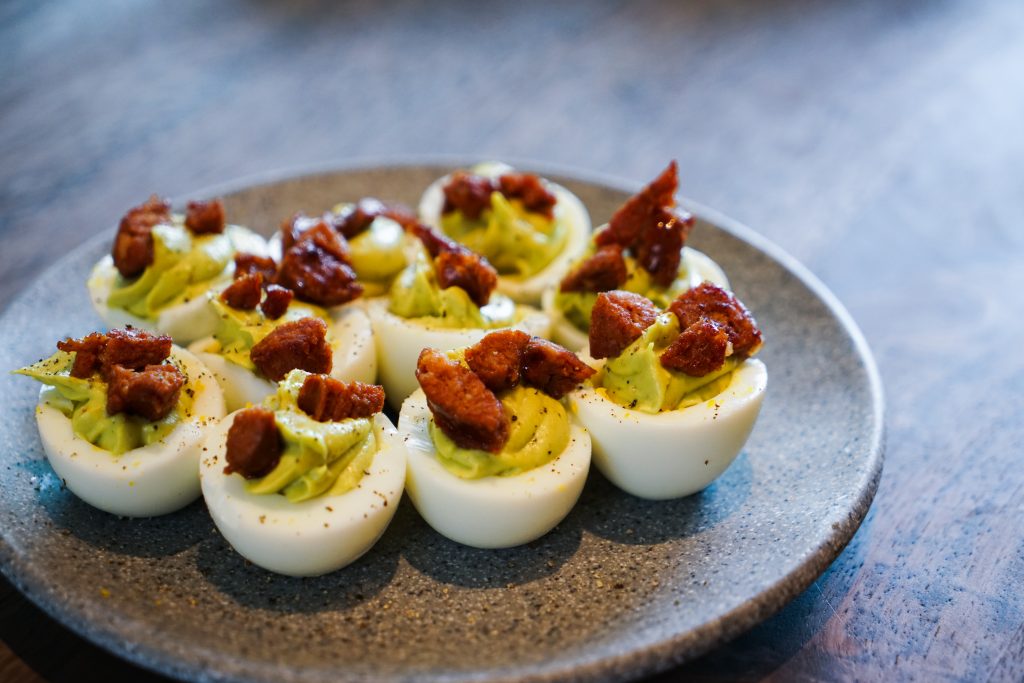 Ingredients
12 large Organic Valley eggs
1 ripe Hass avocado (use another ½ avocado if the avocado is small or the seed is very large)
1 tablespoon dijon mustard
1 ½ tablespoon lemon juice (about one lemon)
2 teaspoons hot sauce (vinegar-based)
1 teaspoon fine sea salt
½ teaspoon ground black pepper
3 tablespoons mayonnaise
2 teaspoons smoked paprika
Chopped parsley (for garnish)
Chopped Scallion (for garnish)
4 Niman Ranch Chorizo Sausages, sliced and baked until crispy (see notes below)
Method
HARD BOIL THE EGGS:

In a medium sized sauce pot, fill with salted water and a splash of distilled white vinegar. Bring to a rolling boil. Place the eggs in the saucepan and boil for exactly 10 minutes, then immediately place them in an ice bath. Peel right away once they are cool, to make the shells come off easier.
PREPARE THE FILLING:
Cut the hard-boiled eggs in half, and place the yolks in a small food processor or blender. Add in the avocado, mustard, lemon juice, hot sauce, salt, pepper and mayonnaise. Process until smooth, stopping to scrape down the sides if needed.
Taste the mixture and add one teaspoon of water/hot sauce, if needed. If you want more of a tangy flavor, you can also add more lemon juice to taste. For texture, you can even add finely diced avocado, scallion or chorizo.
Once the filling flavor is to your liking, transfer it to a plastic bag or piping bag. You can use a pastry tip if you have one, but cutting the corner of the bag will create a nice piping effect, too. Arrange the egg white halves on a large plate and pipe the filling into each half.
Garnish the avocado deviled eggs with paprika and chopped parsley and a disc of crisp Niman Ranch Chorizo. Then serve right away or keep them chilled in the fridge until ready to serve.
NOTE:

You can slice this fully cooked chorizo sausage in any direction you like, though we like when they curl up when baked. Bake on a sheet pan at 400 degrees or fry in a pan until crispy. Reserve the rendered fat, it can be used in the filling for an extra punch of flavor.